XXV Open Society Forum: Climate Change Meets Migration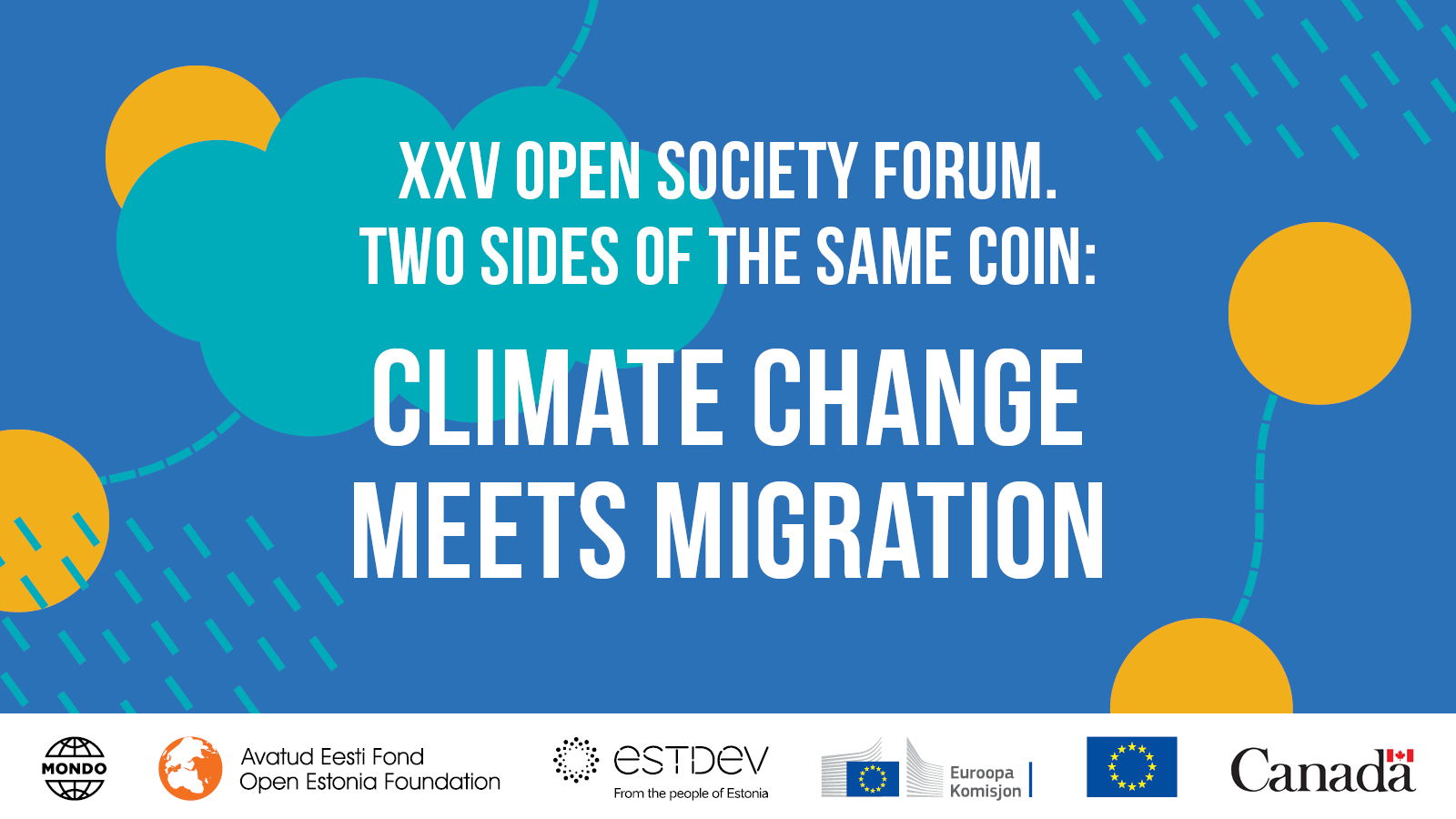 The XXV Open Society Forum on the topic "Two Sides of the Same Coin: Climate Change Meets Migration" took place at Fotografiska on Thursday, September 29 and was organised in cooperation with NGO Mondo.
Watch the conference here.
The emergency of the climate crisis may have been briefly outshadowed by the COVID-19 pandemic but nevertheless it continues to be the most pressing issue of our times. The purpose of the event is to contribute to a better climate-, environmental- and migration-related literacy in the society as a whole and particularly, to empower the young people in having a say about their future. As climate and migration are closely entwined, our approach would be to tackle these together and present a holistic view on those topics.
Open Society Forum was funded by the European Commission, Estonian Centre for International Development - ESTDEV, European Commission Representation in Estonia and Embassy of Canada to Estonia
Programme
12:30 Registration and welcome lunch
13:00 Opening remarks
Mall Hellam, Open Estonia Foundation
Diana Tamm, NGO Mondo
13:15-13:30 Musical introduction by Marten Kuningas
13:30 - 14:00 Discussion with president Kersti Kaljulaid and Mark Nuttall, social anthropologist; Professor and Henry Marshall Tory Chair in the Department of Anthropology at the University of Alberta in Edmonton, Canada.
14:00 - 15:15 1st Panel Discussion - Climate and Migration: Challenges and Opportunities
Participants: Mark Nuttall, social anthropologist; Anthony Agotha, Senior Diplomatic Adviser of Executive Vice-President Frans Timmermans; European Commission, entrepreneur - Triin Hertmann, a sustainable investment platform Grünfin founder, former COO at TransferWise and early employee of Skype and angel investor; Kertu Birgit Anton, Estonian Youth Activist (Fridays for Future).
Moderator: Prof. Helen Sooväli-Sepping, human geographer, Vice-Rector for Green Transition at Tallinn University of Technology, editor-in-chief of the Estonian Human Development Report 2019/2020
15:15-15:45 Coffee break and snacks
15:45 Environmental activist, host and producer of podcast on climate titled Hali Hewa, Abigael Kima (Kenya) - video introduction to the second panel
16:00-17:30 2nd Panel Discussion. Focus: Future, Forms of Activism, Emotions and Behavior
Participants: Dominika Lasota, youth activist from Poland; Alesja Jagolnik, Youth Activist, Shokkin Group, Estonia; Maarit Jõemägi, teacher at Tallinn Secondary School No. 32; Tallinn Basic School Teacher of the Year 2018, 2019 and Kaisa Jõgeva, social scientist in the making; PhD student in sustainability transition at the Institute of Social Studies of the University of Tartu.
Moderator: Marten Kuningas, socially conscious singer-songwriter
17:30 Drinks and mingling